On July 21th, at 10:30 pm we put ourselves in the car and headed for Gardermoen Airport , driving through the night. Arriving at 3:30 am at Dalen Parking. Apollo had recommended us to be there 3 hors in advance due to possible queues through the security check. It went smoothly ant the flight took off on time. Great flying weather and we touched down on Burgas Airport on schedule. Not up to speed there, though, it took an hour to get our luggage, coming off the plane. Finally, after half an hour transfer, we reached the Perun Hotel. A rather big hotel room presented it self in light pleasant colors. And, of course, a balcony with ocean view: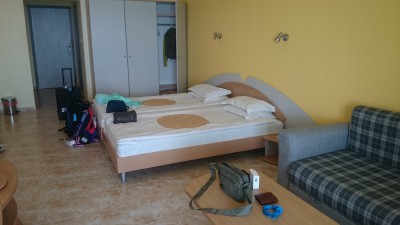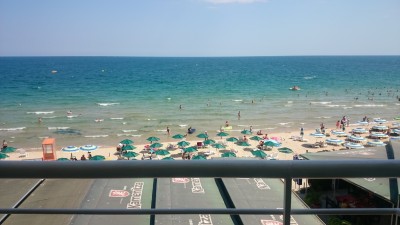 After unpacking we went for a stroll to see what we could remember after 7 years since our last visit here. More restaurants and souvenir stalls for sure but all in all about the same.
We sort of got into a daily routine. Either breakfast at the hotel, included, or at our balcony. There where free loungers and parasols in the pool area with only 35 m. to walk for an ocean swim. If you wanted the same at the actual beach it would cost you NOK 150,- a day. Not worth the money we thought. We normally spent aprox. 5 hours daily in the pool area. The temperatures during our stay kept itself between 28-32 degrees Celsius.
At least once, often twice during the day/evening we visited Cafe Kris, a very local bar that became "our" bar on the main shopping street. Very few of the tourist sat down on this place which suited us perfectly. They kept their prices very low compered to their competitors. As an example: Two coffee and two of the local brandies, Pliska, amounted to NOK 23,- The Pliska was very good indeed.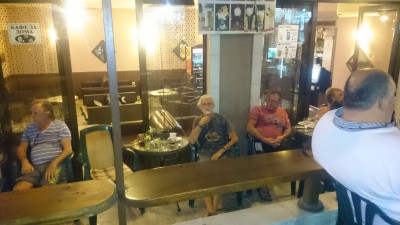 Then there is Nessebar Old Town, a maze of narrow streets, most of them filled with shops and restaurants. Among them a number of high quality jewelers and fur shops. Also some very old ruins. A place well worth visiting!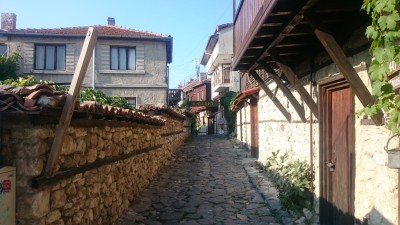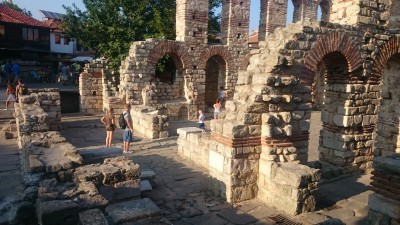 It is hard to choose wrong when it comes to food in Bulgaria. One of the local dishes we tried was called Kavarama, made with either chicken or pork, we chose the pork version. Made like a stew which included potatoes. Unbelievably tasty!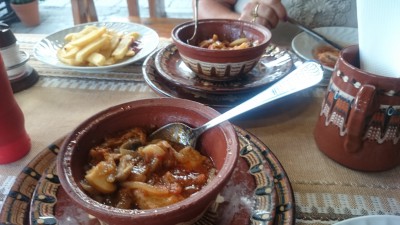 Two weeks went very quickly and it was time to put ourselves on the plane heading back to Gardermoen Airport and finally Øvre Årdal.
We had a great vacation but having said that; also very good to be bake home 🙂
Some photos at the Gallery album Bulgaria 2016, more will be added later.